My response to the COVID-19 Crisis affecting freelancers working within the Cultural Industries
Today I've been asked to introduce a discussion on freelancing during the current extraordinary circumstances by What Next?. I though it wise to summarise what I do for a living in a couple of paragraphs before going on to discuss the wider issue.
I've worked for myself for three years now and I've engaged in a wide range of projects. My bread and butter work is a mixture of business planning and fundraising for my clients. This has been reasonably successful, and I've developed some deep and long-term relationships with several arts organisations. I've also offered practical support to a number of emerging artists and companies.
Going freelance has also given me the opportunity to get my creative juices flowing again; last year I produced and toured Let Me Look At You for Starving Artists – the queer theatre company set up in 1983 in Honolulu by performer/director Mark Pinkosh, and this year I'm producing Double-Ender a new piece by playwright Joshua Val Martin and visual artist Jez Dolan for our own company Initiative Arts. I've also been commissioned to work as a lighting designer and even worked as a voice artist. On the whole, my work has been varied, interesting and its been a joy to travel down the freelance road.
As with many freelancers I set a daily rate and negotiate both this and the duration of any project with a potential client. Over the past three years, a piece of work has ranged from a contract for – say 30 days – right down to a one-hour interaction with students at university. It's a bit hand-to-mouth – the wolf is sometimes at the door, sometimes it's at the end of the road at the Metro station, sometimes it's sitting at the foot of the bed. My husband is a visual artist and is also self-employed; his income is even more precarious, and we don't really have much in the way of savings. We usually just about get by.
During the pandemic so far, I've been relatively lucky. The majority of the work I undertake involves me working from home and I was fortunate to secure a significant piece of work in March.
Double-Ender was awarded project funding by Arts Council England the Friday before lockdown and so our company now has some money in the bank. Although our creative team is currently working to deliver a rehearsal script, all the performances of the piece have been cancelled or postponed. We'll have a read though of our work to date at the end of this month after which Double-Ender goes into the deep freeze until our partner venues know when they will be able to re-open, or we decide what to do next with the play.
As a registered self-employed person who has submitted tax returns, I've also qualified for state aid under the Self-Employed Income Support Scheme (SEISS). My current position therefore is supported.
However, I am aware that I am one of the lucky ones. I know of people whose work has dried up overnight and whose once busy diaries are now completely empty. Some people have fallen through the cracks in the state support system; I know of a director who left their full-time job within the last year in order to once more work again as a freelancer. She now has no work, nor is she eligible for relief as a self-employed person, as she hasn't made the appropriate tax return yet. Someone else reports that they have formed their own business recently, and consequently have not been eligible for either furloughing or relief as self-employed. Visual Artists face similar problems, with the cancellation or postponement of gallery and museum exhibitions with no certainty of their work now being seen. There is a definite feeling that the world of cultural production is seizing up or slowing down precipitously.
The expectation of work in the future is muted. Cultural freelancers across many art forms tend to be commissioned or employed to undertake work by established cultural organisations. Organisations are uncertain about what the future holds in store and many are facing an existential crisis – indeed it is ironic to thinks that those cultural producers who successfully diversified their income portfolio 'weaning' themselves off public subsidy by enhancing their ability to earn money, or attract philanthropy, are potentially the most threatened by the current crisis. It is clear that some really significant cultural organisations are unlikely to survive; these organisations are our employers.
The threat to employers is therefore mirrored in the freelance sector – our order books have either dried up completely or threaten to do so. I've got enough work to keep me busy at the moment, but I have no idea what the autumn and winter will bring. I had a conversation with another member of this What Next? chapter a week or so ago who said, 'you should be alright; people will be crying out for your skills as lockdown recedes'. My worry is that the work that I do might now be classed as an unaffordable luxury. I simply don't know what the future will bring and I'm finding it difficult to even begin to plan what happens next.
Many arts organisations are responding magnificently! I know of small organisations who are topping up the 80% furlough wages up to the full wage, despite having little financial room for manoeuvre themselves. My own experience has been that my clients have offered to front-load my fee schedule in order to offer me a financial buffer.
Most recently we have seen the open letter from Spare Tyre, Contact, HOME and 67 other organisations offering solidarity with freelance workers, calling for the retention and extension of the SEISS, looking for and commissioning new ways to work, and offering to pay fees to freelancers who join a national task force. This task force will strengthen the influence of the self-employed theatre and performance community – leadership that is very, very welcome.
I believe that the sector will eventually recover. It will be changed, and the current crisis will be a catalyst in that change – and I trust that it is a change for the better. I also fervently hope that the recovery comes soon enough to prevent a wholesale exodus of skilled freelancers from our sector.
Manchester, 10 October 2019
The lovely people at CAN are seeking to employ a Company Administrator. Community Arts North West (CAN) is a leading national organisation in the field of participatory arts, migration and social change. CAN's work aims to create expression and visibility for the diverse people and artists based in the region through dynamic partnerships and inspirational programmes of work. CAN is a National Portfolio Organisation of Arts Council England and a Manchester City Council Cultural Partner.
The closing date for applications is Friday 8th November 2019 - and here is the link.
Manchester, 8 October 2019
An excellent trip to Hope Mill Theatre tonight to see their in-house production of Mame - a musical that was last performed professionally many years ago. It was marvellous - beautifully sung, sensitively directed and acted, with some especially exuberant hoofing. I DO NOT KNOW HOW THEY MANAGED TO GET SO MANY PEOPLE COORDINATED AND LOOKING GOOD ON SUCH A SMALL STAGE!!
"Life is a banquet, and most poor suckers are starving to death!" That's the motto of Mame Dennis, one of musical theatre's all-time greatest heroines, in this brassy, hilarious and touching adaptation of Patrick Dennis's bestseller, Auntie Mame, starring critically acclaimed and two-time Olivier Award-winner Tracie Bennett as Mame.
It's playing until November 9 and is well worth a visit. See the link below for details of this and the rest of their programme.
Manchester, 5 October 2019
A busy cultural day! Saw Neil Tennant being interviewed by Andrew McMillan at the Royal Northern College of Music this afternoon as he promoted his new book One Hundred Lyrics and a Poem, published by Faber.
Then off to The Edge in the evening to see the excellent Barb Jungr performing songs from her new album Bob, Brel and Me, a compilation of songs by Bob Dylan, Jacques Brel and Barb herself. An excellent night in a really warm and intimate venue, who are themselves celebrating their new bar license, making the Edge a really cool place to hang out...
Berlin, 14 September 2019
Today I had the pleasure of participating in the walking tour of Isherwood's Berlin around Nollendorfplatz - the area in which Christopher Isherwood lived in the early 'thirties and which providers the inspiration for the play I am a Camera, which in turn led to the creation of Cabaret.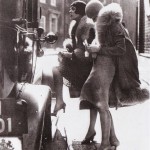 Starting and ending at Nollendorfplatz, this two-hour tour visited the neighbourhood the British writer lived in during his time in Berlin in the last years of the Weimar Republic and where he wrote his famous Berlin diaries. The walk includes readings from his novels and diaries and takes in the sights he wrote about and the cafes, bars and clubs he frequented. There is also a lot of pictorial reference material to see; the picture to the right shows two 'ladies' on the streets of Berlin in the '30s - you may notice a similarity between them and Tony Curtis and Jack Lemmon in the Billy Wilder movie Some Like it Hot; Billy was a frequent visitor to Berlin at this time.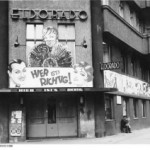 The house in which Isherwood lived still stands and so does the site of the Eldorado - the club that is called the Kit Kat Club in his writings and is itself a major star of the movie. The Eldorado was the premier queer nightspot in Berlin in the early '30s and was frequented by Isherwood, W.H Auden, Marlene Dietrich, and surprisingly leading Nazi Ernst Röhm! There is a fascinating article about the Eldorado here, written by Brendan Nash, who leads the tour; the photos here are all from Brendan's collection...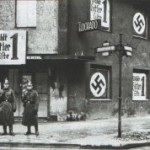 With the change in the political environment and the suppression of the queer, the Eldorado closed its doors in 1933 and its heterosexual jewish owners fled with their children, eventually settling in Australia. The club became the local headquarters of the Nazis. You note that they didn't even take down the nightclub's signs....
Brendan Nash - the guy who takes the tour is extremely knowledgable and very friendly. If you're ever in Berlin on a Saturday, then go! You can find him at mail@isherwoods-neighbourhood.com and on twitter @Cabaret_Berlin.
Nothing to do with work, but what a pleasure to sing with the marvellous Sunday Boys once again. This year our summer concert was at the Fairfield Social Club, just behind Picaddilly Station in Manchester. This is a converted railway arch underneath what was the track leading to the Mayfield depot - a difficult place to find, but a spectacularly cool setting and a superb accoustic. I think we sounded very good and it is always an opportunity to entertain, but also inform a mixed audience about the queer experience - not in a heavy way, but in good comradeship and in celebration.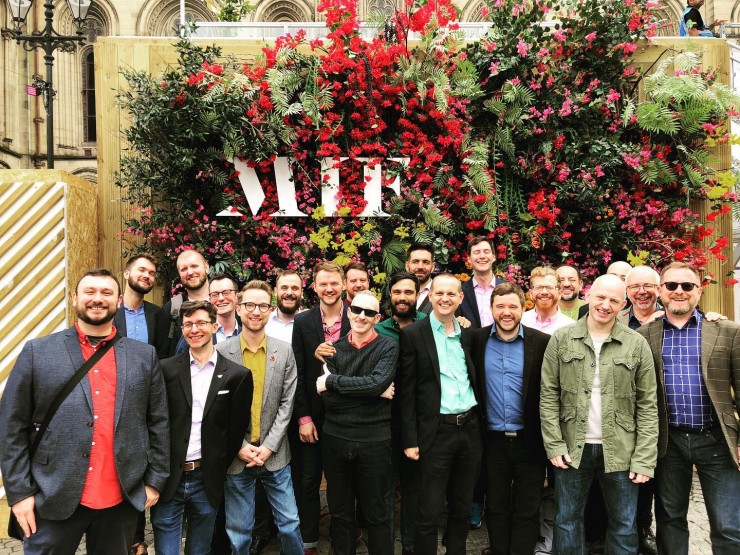 This is our second performance in seven days, following on from our performance at the 2019 Manchester International Festival last Sunday.
Arts Council England consultation meeting today, asking practitioners and organisations about their proposed strategy for the ten years between 2020 and 2030. This is important stuff! I've enclosed a link to the draft documentation below - if you have an interest in this, then please do have a look; ACE are keen to consult as wide as possible and it is really easy to comment on their strategy on-line. I've also included a link.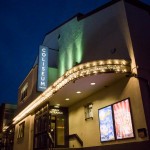 And we're off again! Today is the first day of my third year of working for myself. So what better way of spending the day than working, once again at Oldham Coliseum Theatre. Yesterday marked two years to the day since I last set foot in the offices at the Theatre - today I was back, sitting at my old desk, helping the Coliseum claim Theatre Tax Credit for the last shows that I was involved with. Funny old world.....